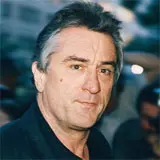 Variety.com is reporting Robert De Niro is on the verge of signing on to co-star in Edge, the Martin Campbell-directed thriller set to go to lens this month in Massachusetts.
Mel Gibson is already on board and will play a by-the-book Boston homicide detective whose 24-year old daughter is slain on his doorstep. Gibson assumes he was the target and his daughter was in the wrong place at the wrong time.
De Niro will play an operative sent to clean up evidence from the crime after Gibson's investigation uncovers the usual cliche of cover-ups, lies and deceit.
It's been awhile since Gibson has stepped in front of the camera to star; six years, to be exact. The last time he did so was for M. Night Shyamalan in Signs. If that's not enough to draw media attention, Gibson's recent bouts with alcohol and partying with random women will surely come up when the marketing campaign kicks in.
Edge will likely arrive in theaters sometime in the second half of 2009.
Tell everyone if you think Mel and Robert will push Edge into a winner at the HDR Forums.