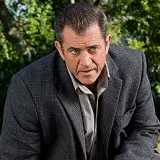 Mel Gibson's return to the big screen in Edge of Darkness has been cleared by Warner Home Video for a Blu-ray Disc and DVD debut on May 11.
The thriller raked in over $43 million at the domestic box office and over $68 million worldwide. Its director, Martin Campbell, is currently shooting The Green Lantern starring Ryan Reynolds.
On Blu-ray, Edge of Darkness will be presented in 1080p video and 5.1 DTS-HD Master Audio. Most of the bonus featuers are exclusive to Blu-ray with the DVD version being included in the Blu-ray package.
BD Exclusive: Past and Present of Edge of Darkness
BD Exclusive: 9 Focus Point video pods

Scoring the Film
Revisiting the Edge of Darkness
Mini-series
Edge of Your Seat
Making a Ghost Character Real
Adapting the Edge of Darkness
Mini-series
Director Profile Martin Campbell
Boston as a Character
Mel's Back
Craven's War of Attrition

Additional Scenes
DVD Version of Feature Film
Digital Copy on Disc
Edge of Darkness pre-order information for Amazon.com should be available shortly. We will pass it along once available.