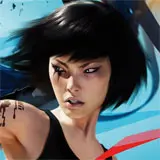 Electronic Arts has announced Mirror's Edge will ship for Playstation 3 and Xbox 360 on November 11.
The DICE-developed new intellectual property literally puts players in the shoes of a heroine runner who can leap across rooftops and climb buildings. The vantage point is always the character's point of view which will offer a new gameplay experience sure to test player's motion sickness boundaries.
EA has also announced a playable demo will be available to download from Xbox Live Marketplace and the Playstation Network sometime between now and November 11.
Starting September 26, anyone who pre-orders Mirror's Edge from a select retailer will be able to unlock a Time Trial mode in the demo otherwise inaccessible.
"Mirror's Edge is bringing something new to the action-adventure genre this holiday by putting the player in the shoes of the hero, seeing what she sees, feeling what she feels," says Owen O'Brien, Senior Producer, DICE. "We wanted to create an entirely new experience, with a different type of heroine and a world that not only looks fresh and new but has unique gameplay."