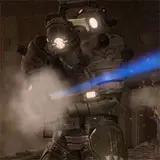 Warner Bros. Interactive Entertainment and developer Monolith Productions have let loose the E3 trailer for Project Origin, otherwise known as the sequel to F.E.A.R.
The trailer reveals for the first time all new weapons, enemies, mechs, blood effects and locations Project Origin will feature.
Project Origin begins shortly before F.E.A.R. ends. A Special Forces squad is confronted with a supernatural explosion at the hands of powerful Alma, a nasty girl out for revenge.
We'll have more on Project Origin from E3 later this week. In the meantime, head on over the official Project Origin website to check out the trailer.