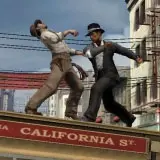 We received an interesting and encouraging bit of news from the energetic PR folks at LucasArts earlier today after being given a demonstration of their hot upcoming holiday titles.
One of the games we were demoed over two years ago was a third-person Indiana Jones adventure using Euphoria and DMM technology before Star Wars: The Force Unleashed, set for release utilizing those technologies, was even announced.
The Indiana Jones game literally vanished from the public eye after E3 2006 and Star Wars: The Force Unleashed became the new poster child to demonstrate Euphoria and DMM. It was widely assumed canned once Indiana Jones and the Kingdom of the Crystal Skull was released, but we always held out hope it might return given how far along those demoed levels were in development.
Watching stormtroopers being flung around like rag dolls brought back memories of Indiana Jones thumping bad guys in the streets of San Francisco so we just had to find out: is Indiana Jones the game dead or secretively being prepped for release?
LucasArts has no qualms revealing that the Indiana Jones game is alive and well, currently still in development and moving towards a future release. What's been accomplished thus far wasn't up to snuff to show, thus its lack of exposure over the past couple years.
Our assumption based purely on speculation is much of the team working on Indiana Jones was pulled off to work on The Force Unleashed given the similar new technologies being tested with each game. Now that The Force Unleashed is nearly in the can, the team can return to Indiana Jones and get it back on the fast track.
We'll find out more in the months ahead and report any new developments on what we anticipate will be the definitive Indiana Jones adventure we've been waiting decades to play.