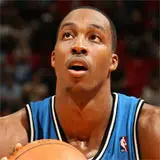 While Kobe Bryant and Dwight Howard are squaring off in the NBA Finals, EA Sports and 2K Games are preparing for a similar bout this fall.
On the heels of 2K selecting Kobe Bryant as the cover athlete for NBA 2K 10, Electronic Arts has waited until the Magic won their first Finals game before announcing their cover star will be none other than Magic center and self-professed Superman, Dwight Howard.
With the Lakers taking a 3 games to 1 lead earlier this evening, Kobe looks to wrap up yet another championship while Dwight will have the off-season to ponder what might have been. Since 2k's hoops games are perennially preferred over EA's, the cover art athlete selection is another prime example of art imitating life.
Check out the Xbox 360 cover for NBA Live 10 with Dwight Howard below. The PS3 version, along with 2K 10's Xbox 360 and PS3 version, will all be in stores on October 6.
Click here to secure a pre-order for the NBA 10 version of your choice at Amazon.com.