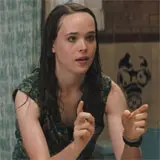 The first trailer for Drew Barrymore's first directorial effort Whip It! has made its way online via Yahoo! Movies.
Whip It! stars Ellen Page as a typical rebellious teenager and general pain in the ass for her parents who, much to her mother's dismay, joins a roller-derby league and learns valuable life lessons and the ability to jump over girls in a single leap.
Co-starring with talented Ms. Page are Zoe Bell, Marcia Gay Harden, Drew Barrymore and Kristen Wiig.
Watch the Whip It! trailer below, then head to Yahoo! Movies if you find the need to see it again in HD.