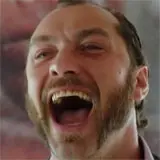 Jude Law scored rave reviews for his portrayal of Dom Hemingway earlier this year in the film of the same name from director Richard Shepard. On July 22, the story about a safecracker bent on collecting a debt after 12 years in prison only to be sidetracked by his daughter (Emilia Clarke, Game of Thrones) will make its Blu-ray, DVD and Digital HD debut.
Fox is bringing the Fox Searchlight film to Blu-ray and Digital HD combo in 2.35:1 1080p video and 5.1 DTS-HD Master Audio. A handful of bonus features are included on the disc:
Promotional Featurettes
Ping-Pong Loop
Audio Commentary by Richard Shepard
Gallery
Theatrical Trailer
Check out the Dom Hemingway red band trailer (definitely NSFW) and Blu-ray cover art below.
Click here to pre-order Dom Hemingway on Blu-ray for a discounted price at Amazon.