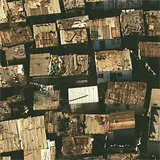 A second District 9 trailer has popped up over at IMDB missing the annoying mosaic blurring covering the alien's face and adding subtitles so you can tell what the bugger is saying to the men interviewing/interrogating him are saying.
My gut says this uncensored trailer is legit as the effects on the alien's busy face are pretty clean in look and dynamic animation. If the effects are real then the subtitles must be too (they're too straightforward to be a "joke.")
District 9 comes from the mind of South African director Neill Blomkamp, the man who was to helm a Halo movie for Peter Jackson before that ship sunk. His short film Alive in Joburg serves as the inspiration and helped temporarily land Blomkamp the Halo gig while it had life. How the concept of alien refugees in South Africa plays out over a feature-length film will be interesting to say the least.
> >