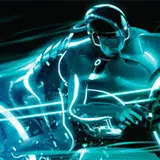 D-BOX Technologies has announced plans to feature D-BOX Motion Code with the theatrical release of Tron Legacy in 2D and 3D on December 17.
Tron Legacy is the second Disney film to be given the D-BOX treatment after The Prince of Persia: The Sands of Time. That film's D-BOX track will be available on Blu-ray Disc and DVD later this year.
Visit the D-BOX website for a list of the 28 D-BOX compatible theaters in the United States and Canada.