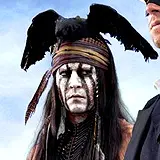 Disney has announced a surprise choice to score Gore Verbinski's The Longer Ranger starring Johnny Depp and Armie Hammer as John Reid and Tonto, respectively. Here's a hint: he's never scored a feature film until now.
Today at CinemaCon in Las Vegas, Disney revealed rocker and Grammy Award-winning artist Jack White will write, produce and perform the music for The Lone Ranger. It's an odd but extremely cool choice that was pitched by Verbinski and Depp according to uber-producer Jerry Bruckheimer.
The announcement timing couldn't be better for either Disney or White. Just this past Tuesday White's first solo album 'Blunderbuss' was released to critical praise. He's best known for playing in the bands White Stripes, The Raconteurs, and The Dead Weather.
Speaking of Johnny Depp, he recently revealed that the makeup and dead bird on the top of Tonto's head in the film was inspired by a native American Indian painting from artist Kirby Sattler. According to Depp, the lines down Tonto's face represent a "cross-section of a man's emotional life." In other words, he wears his emotions on his face rather than his sleeves, if he had sleeves. Only by coincidence did the painting happen to have a bird flying behind the Indian, which Depp worked into the character as an actual headdress.
In The Lone Ranger, which is currently in production, Tonto retells the tales of a man of the law who through his adventures and tales becomes a "legend of justice." Bruckheimer is promising comedy and action, the same stew which turned the Pirates of the Caribbean films into a mega-franchise.
The Lone Ranger rides into theaters on May 31, 2013.