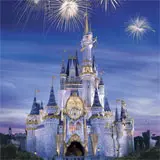 Update: I was a little surprised to see Blindness in this press release but ran with it anyways since the information came straight from Disney. Upon followup with Disney, I can unfortunately confirm the inclusion of Blindness for Blu-ray was a mistake. There will be no release of Blindness on Blu-ray next month. Was it once planned and pulled at some point in time thus why it was listed? Possibly, but we'll likely never know.
We count on the annual Consumer Electronics Show (CES) to generate at least one big studio Blu-ray Disc announcement. Last year Disney came through by teasing multiple titles throughout the coming year. This year they've done the same.
Disney's first Blu-ray announcement is confirming at least three upcoming releases, High School Musical 3: Senior Year (February 17), Pinocchio: 70th Anniversary Platinum Edition (March 10) and Snow White and the Seven Dwarfs: Platinum Edition (October) will be released as "Combo Packs" that include both a Blu-ray Disc and standalone DVD version of the film. This brings back memories of HD DVD Combo Discs only the DVD version sits on a separate disc rather than the "flip-side" of the main disc. Last fall's Sleeping Beauty was the first Disney Blu-ray Disc release to include both standard and high-def versions.
Disney goes on to confirm that Digital Copies will continue into 2009 on at least 14 titles including High School Musical 3: Senior Year, Beverly Hills Chihuahua, Monsters Inc., and A Bugs Life. That's right; both Pixar catalog titles are confirmed for 2009. The late 2009 release of Up creates a Pixar Blu-ray trifecta, though oddly missing is Finding Nemo which at one time was scheduled for a Blu-ray release in late 2007 and then spring 2008.
Other catalog titles confirmed for release in 2009 include Microcosmos (Miramax); Rounders 10th Anniversary Edition (Miramax); Lost: The Complete First and Second Seasons (ABC); Sin City (Miramax); Miracle (Walt Disney Pictures); Sling Blade (Miramax); The Greatest Game Ever Played (Walt Disney Pictures); Pulp Fiction Special Edition (Miramax) and Good Will Hunting Special Edition (Miramax).
Confirmed for a theatrical release is Morning Light (summer) and although not mentioned in the release, Bolt (March 24).
Will pass along individual announcements for all of these titles as they are made. So far it looks like a great year for Blu-ray from the Mouse House.