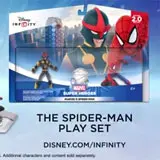 After last week's retail flier leak spilled the beans, this morning Disney Interactive formally announced via a trailer that the second Disney Infinity 2.0 Marvel Super Heroes Play Set will be the Ultimate Spider-Man Play Set, and it will support five different figures/characters.
The Ultimate Spider-Man Play Set includes the Play Set piece and two figures: Spider-Man and Nova. Available separately and compatible with the Play Set are Nick Fury, Venom and Iron Fist.
Green Goblin and Mysterio are prevalent as villains in the trailer, however it appears neither will be available as physical toy figurines — at least not yet. If you're keeping count, purchasing the Disney Infinity 2.0 Starter Pack and Ultimate Spider-Man Play Set nets you five total figures: Black Widow, Thor, Iron Man, Nova and Spider-Man.
Disney Infinity 2.0 still isn't available for pre-order but is expected to be by this weekend. If you watch the Ultimate Spider-Man Play Set trailer carefully, the Starter Pack and Play Set packaging is revealed.