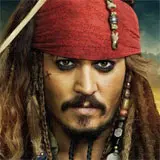 Disney sent along a major release date schedule today that confirms an extension of the Pirates of the Caribbean franchise, confirms a release date and star for Brad Bird's next film, and pushed Angelina Jolie's foray into fairytales back several months.
The Mouse House means business in the summer of 2015 and has virtually locked up the top grossing studio for the year without having shot a single frame of footage from their upcoming slate. Joining previously announced Star Wars Episode VII from Pixar and The Avengers 2 from Marvel is Pirates of the Caribbean 5 starring Johnny Depp. As previously reported and now confirmed, Jeff Nathanson is working on the latest draft of the screenplay. Jerry Bruckheimer will once again produce the fifth film in the franchise that will set sail into theaters on July 10, 2015.
Maleficent, the upcoming 3D live-action prequel to Sleeping Beauty that stars Angelina Jolie as the villainous title character, has been pushed back to July 2, 2014 from its previous March 14, 2014 release date. Disney must have confidence in Maleficent to bow it on the popular July 4th holiday.
With Maleficent vacating March, The Muppets 2 has moved into the March 21, 2014 slot. The sequel stars Ricky Gervais, Ty Burrell, and a whole gaggle of fuzzy Muppets.
Last but not least, the Damon Lindelof and Brad Bird Sci-fi collaboration 1952 will be released on December 19, 2014 in 3D. Previously rumored George Clooney is now confirmed to star as a man who comes into contact with extraterrestrials.
Noticeably absent from Disney's updated schedule is the rumored Alice in Wonderland sequel. With Johnny Depp attached to Pirates 5, it seems the earliest another trip down the rabbit hole will come is 2016 or 2017.