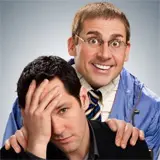 Steve Carell will drive Paul Rudd up a wall in Dinner For Schmucks, Paramount's summer comedy that has been officially announced for a Blu-ray Disc and DVD debut on January 4.
Co-starring Zach Galifianakis (Due Date, The Hangover), Jemaine Clement, Jeff Dunham, Bruce Greenwood, Ron Livingston, Lucy Punch, David Walliams, Larry Wilmore and Kristen Schaal, Dinner For Schmucks topped $85 million in box office receipts after its theatrical release in late July. It came up $4 million short of taking its opening weekend thanks to Christopher Nolan's Inception.
The Blu-ray version of Dinner For Schmucks (SRP $29.99) will receive a 1080p video and 5.1 DTS-HD Master Audio treatment. Half the bonus features are exclusive to Blu-ray and those will be offered in HD.
The Biggest Schmucks in the World
Schmuck Ups-Gag Reel
Deleted Scenes
BD Exclusive: The Men Behind the Mousterpieces (HD)
BD Exclusive: eet The Winners (HD)
BD Exclusive: Paul and Steve: The Decision – LeBron James press conference spoof (HD)