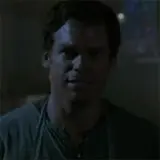 Showtime previewed the first two minutes of the Dexter: Season 7 premiere at Comic-Con yesterday during the show's panel. Not long after, that same footage was officially released online for the rest of us to enjoy. Small spoilers follow so proceed at your own risk.
Season 7 picks up at the exact moment that Season 6 ends. Dexter (Michael C. Hall), having recently plunged a sword into Travis while his sister Deb (Jennifer Carpenter) peeked on, now stares down the barrel of his sister's gun. Surprised that he has been finally caught in the act, Dexter quickly does what he does best – lie – and try to talk his way out of the sticky situation.
Deb is actually a great cop and questions Dexter's use of the cling wrap after he tries to blow off the question the first time. In her head she's trying to connect the dots of what she's looking at and it isn't all adding up.
The Dexter: Season 7 preview concludes with Deb in the process of calling for backup. Lots of backup. This would be the end of Dexter so my guess is that he'll talk her out of the phone call and into covering up all the evidence. Otherwise, he's screwed and then some.
It wouldn't be a proper introduction of new Dexter footage without Deb dropping some f-bombs. She has a few for her brother, but they've been censored for the web release.
Dexter: Season 7 premieres on Sunday, September 30 on Showtime, with all Deb f-bombs intact.