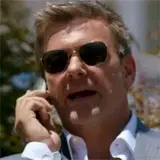 There's a new lady in Dexter Morgan's life and she is proving to be about as good a liar as Dexter was with Deb once the evidence became too overwhelming to ignore.
In the first preview clip below from the next episode of Dexter: Season 7 'Swim Deep,' Dexter picks up on inconsistencies with Hannah McKay's statement to the police about her role in the brutal killings committed by her recently deceased ex-boyfriend. It turns out blood splatter patterns coupled with a knife wound on Hannah's palm, plus Dexter's keen intuition, point toward Hannah performing some of the kills herself. Dexter calls out Hannah on her crime to which she can only respond with, "I'm sticking with my story." There should be a lot more "story" between these two in the weeks ahead.
Isaac gives Dexter a call in the second clip to casually let him know that he will die for the death of Victor. It has already been heavily implied that Victor was more to Isaac than merely an associate. Two words in the following clip drive this point home. Isaac's vendetta is personal, and because it is, Deb's life is at stake as well.
Watch Dexter: Season 7 episode 77 'Swim Deep' this Sunday at 9/8c on Showtime.