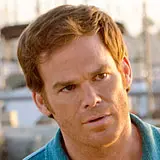 No matter what course of action Dexter Morgan seems to take this season, it seems to backfire in his face before too long. All of his secret sharing and dropped emotional barricades have lead to his biggest predicament yet.
It has taken Deb half a season to realize that what her brother does – kill people – has its place in an imperfect world depending on your point of view. Hannah McKay has played Deb and the Miami homicide department to perfection, getting away with yet another murder that cannot be pinned to her. This has enraged Deb to no end and left her with no choice but to call on big brother Dexter for some vigilante justice.
The problem is Dexter has given in to Hannah's beauty and appeal twice now and is in no position to "off" her as Deb wants. The promo for tonight's episode, 'Argentina,' shows us that Dexter is going to tell Deb "no" and create a new rift with his already stressed out and beaten down sister.
While Dexter tries to juggle the women in his life, he will have to keep one eye peeled for Isaac Sirko, fresh out of prison and hellbent on snuffing out Dexter's life if its the last thing he does. Isaac doesn't know about Hannah yet, which could set up an interesting killer triangle that only one party escapes from alive. He also doesn't known about Astor and Cody, both of which will finally make a return tonight. Wait until you get a load of how much older Astor (Christina Robinson) looks since the last time we saw her.
Below are a collection of preview images from Dexter: Season 7 episode 80 'Argentina.' Look for the episode to debut tonight on Showtime at 9pm EST.