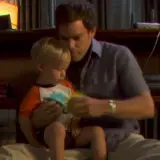 It's no secret by now that Dexter season 6 will see the show's namesake and his dark passenger question the existence and acceptance of a higher power. There will be other story lines at play as well, a couple of which are touched upon in this new featurette from Showtime.
If you're looking to jumping into Dexter season 6 as spoiler-free as possible then it's best to turn around now and avoid the behind-the-scenes featurette. Otherwise, ignore this spoiler warning and prepare to learn who the bad guys are via interview snippets with Michael C. Hall, Jennifer Carpenter, David Zayas, Edward James Olmos, C.S. Lee, Lauren Velez, Colin Hanks, and showrunner Scott Buck.
The featurette also lets on that the season premiere will showcase a death so gruesome that it's not clear how the victim died. Apparently, according to Desmond Harrington (Joey Quinn), the "elaborate and horrific deaths" will be a trend that continues throughout the season. The first one gets quite the reaction from Miami's finest.
Dexter season 6 premieres Sunday, October 2 on Showtime, followed by the premiere of Showtime's new series Homeland.