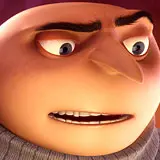 Champagne should be flowing freely at Universal Pictures this weekend after Despicable Me doubled its projected opening at the box office on Friday to the tune of $21.7 million. The first CGI animated film under Universal's new partner, Illumination Entertainment, is on pace for a massive $60 million opening through Sunday and should soar past $100 million by the end of next weekend. The hot weather around the country forcing families to seek air conditioned entertainment may have helped the ticket sales explosion. Still, not too shabby for the studio behind 2010 box office misfires MacGruber, Repo Men and Ridley Scott's Robin Hood.
The other newcomer this weekend, Robert Rodriguez' Predators, also opened strong with an estimated $10.5 million including midnight showings landing it in third place. A projected $25-$27 million opening for the mere $38 million budgeted sequel/reboot has to have Fox scrambling to plan for a sequel while the iron is hot.
The Twilight Saga: Eclipse took second place with $11 million and should finish around $30 million through Sunday. It surpassed $200 million earlier this week so these additional earnings are essentially icing on the cake.
Rounding out the top 5 movies at the box office on Friday were Toy Story 3 with $6.6 million and an estimated $20 million weekend, followed by M. Night Shyamalan's The Last Airbender with $5 million and a target of $15 million for the weekend.
Check back Sunday for the complete weekend box office results.