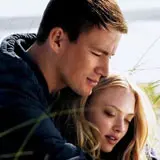 Sony Pictures Home Entertainment has announced the Nicholas Sparks novel-turned-film Dear John starring Channing Tatum (G.I. Joe: The Rise of Cobra) and Amanda Seyfried (Mamma Mia!) is coming to Blu-ray Disc and DVD on May 25.
Dear John was widely panned by critics but rode the Nicholas Sparks name to a nearly $80 million domestic box office haul. It should prove equally successful on home video for women, especially in the rental department.
On Blu-ray, Dear John is being offered up in 2.4:1 1080p video and 5.1 DTS-HD Master Audio. A solid set of bonus features are as follows:
BD Exclusive: movieIQ+sync and BD-Live
Deleted and Alternate Scenes
Alternate Ending
Outtakes
A Conversation with Channing Tatum, Amanda Seyfried and Lasse Hallstrom
Transforming Charleston
Military in Movies: Dear John's Military Advisors
Mr. Tyree, The Mule, and Benny Dietz
The Story of Braeden Reed
Click here to pre-order Dear John on Blu-ray for $23.99 at Amazon.com.