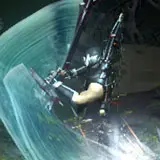 Team NINJA has pulled back the curtain on one of the PS Vita's hotly anticipated games, Ninja Gaiden Sigma 2 Plus. Sigma 2 Plus is a direct sequel to the launch title from Spring of 2012, and is a remake of Ninja Gaiden 2–but modified and souped-up for the power PS Vita handheld system.
According to Team NINJA, Ninja Gaiden Sigma 2 Plus is "faster, bloodier and more beautiful than ever." New additions for the Vita version include a Ninja Race Mode; Tag Missions, which allow the player to use any combination of characters to complete a level; and of course an arsenal of new weapons for Ryu Hayabusa and company to use in his quest to stop the Black Spider Ninja Clan from bringing about the arch-fiend's resurrection.
Ninja Race Mode is just that: a timed race through each game level. Players choose a character, costume and weapon and try to complete the level as fast as possible. In addition to the timed mode, there is also a measurement for the number of kills a player racks up in each level. Lastly, there are three new essences that add time to the clock, boost combo kill powers, and grant ninja speed.
Tag Missions allows players to switch characters in real time to complete the challenges in each level. Strategy comes into play as certain characters will be better in certain situations, and the player will have to discover what works best.
New weapons include Emma's Fang, a massive new sword and can halve enemies with one swing, and the blade grows more powerful with each kill! Another new weapon are the Falcon's Talons, which make Ryu's feet and hands even deadlier, and also gives a new "Thunderous Attack" move. Lastly, Ryu has the option to equip tonfas, which can be used to complete the destructive "Heavenly Justice" combo. These weapons are exclusive to Sigma 2 Plus.
Team NINJA also promises retailer pre-order exclusives, such as new costumes for Ayane, Rachel and Momiji. These exclusives can be unlocked when Ninja Gaiden Sigma 2 Plus is pre-ordered at GameStop.
Ninja Gaiden Sigma 2 Plus promises to be the most intense, action packed ninja adventure on any handheld system. The Vita's 5″ OLED screen is perfect for the insanity and violent bloodletting that Ryu Hayabusa brings to gaming, and further updated graphics and the continued use of the Vita's touchscreens (both front and back!) and dual analog sticks should translate to intuitive controls so that players can take the fight to the fiends on the go.
Ninja Gaiden Sigma 2 Plus is rated M for Mature and will be released on February 26, 2013.
Click here to pre-order Ninja Gaiden Sigma 2 Plus for $39.99 with free shipping at Amazon.com.