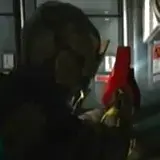 One of the unlockable treats packed into Visceral Games and EA's Dead Space 2 for Xbox 360 and the PS3 is a squishy weapon that packs a lot of punch.
The weapon is the hand cannon and it literally is what its name implies: a giant foam hand. You've seen them before at sporting events and NBA owner Robert Sarver of the Phoenix Suns has become somewhat famous for waving one from his court-side seat. Now the hand does a lot more than make its wearer look like a raving fool.
The hand cannon is unlocked by first defeating Dead Space 2 on any of the available difficulty levels to unlock "Hardcore Mode," and then successfully beating "Hardcore Mode." Once you finish the game at what is the hardest available difficulty level, the hand cannon will become available in the shop to equip.
Within the shop menu, the hand cannon is described as "Real space. Real terror. Real foam." The primary firing selection is "bang bang" and the secondary "pew pew." After watching the video below you'll realize that those firing selection descriptions are right in line with what the hand cannon actually sounds like when it fires.
The best thing about the hand cannon aside from its inherent coolness is how effective it is against some of the more challenging necromorphs. You may never want to use a different weapon again.