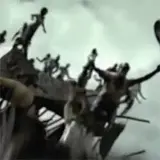 Microsoft has dropped a new Dead Rising 3 launch trailer that borrows heavily from some advertisements you've likely already seen. Even so, it's always fun to see how many zombies Capcom has packed into this game. Never before has the term "the more, the merrier" been more appropriate for a video game.
Dead Rising 3 has been pacing to be the top-selling Xbox One launch games and it's easy to see why. The mass destruction of zombie hoardes and customizable weapons/vehicles are easy selling points, and if the game follows in the footsteps of its predecessors then the bosses will be as memorable as they are frustrating to defeat.
Dead Rising 3 will rise this Friday, November 22 alongside the debut of Xbox One.
Pre-order the Dead Rising 3 Day One Edition at Amazon.com, while supplies last.