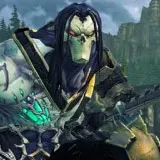 THQ and Vigil Games' Darksiders II was first confirmed as a Wii U title nearly a year ago during Nintendo's new console unveil at E3 2011. You can now count on Darksiders II being available day-and-date with the console's launch later this year.
Vigil Games' lead designer on Darksiders II, Hayden Dalton, confirmed that the game will be available "day one" on Wii U. The Wii U version is being developed parallel to the other console versions, with a small team ensuring the Wii U's tablet controller is taken full advantage of.
"It's basically the core game," Dalton told Digital Spy. "But then with added abilities to do certain things that you can't do on the other consoles."
While Dalton isn't about to reveal all the Wii U exclusive Darksiders II controls, he did talk about one of them.
"One of the things that we did, when we were originally going to show it off, was that you could equip stuff directly," he said. "So, for instance, I could be running along and I could click on another piece and I could put it on as I'm running through the game."
What Dalton's saying is similar to how a DS or 3DS game would play. On-the-fly menu selections are made from the second screen, while the action on the main screen continues uninterrupted. Expect many Wii U third-party games available on other consoles to utilize this type of control scheme that doesn't impact the core gameplay.
Below is the E3 third-party games trailer that includes the Darksiders II reveal. While the game won't be out on Wii U until likely October or November, Xbox 360 and Playstation 3 owners will get to dig in beginning June 26.
Source: Digital Spy