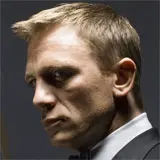 A fan of Daniel Craig recently approached the James Bond actor and got him to offer a time frame for when the next James Bond adventure is set to start shooting.
Per Variety, Craig answered the fan by stating the 23rd Bond adventure will begin shooting sometime late next year. That would put it on pace for a Fall or Winter 2011 release.
The last official news about the next Bond film came back in June when MGM hired Peter Morgan (Frost/Nixon, The Queen, The Last King of Scotland) and screenwriting collaborators Neal Purvis and Robert Wade (Quantum of Solace, Casino Royale) to pen the script. A few days later, a rumor circulated that Michael Sheen of The Twilight Saga: New Moon was being considered for the film's main villain.
MGM remains mum on Craig's open statement and Sheen's possible involvement in the project.