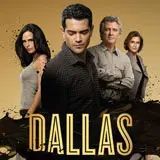 TNT has ordered up a third season of the drama Dallas that will continue the multi-generational story of the Ewings minus J.R.
The Dallas family suffered loss this past season with the passing of Larry Hagman who played J.R. Ewing. Though Hagman's character had to obviously be written off the show, audiences stuck around for the post-Hagman era and clearly want to see where the Ewings are headed next.
Season 2 of Dallas has averaged 3.8 million viewers per episode with live plus seven days of DVR taken into account, and a respectable 1.4 million adults in the advertising coveted 18-49 demo. Those ratings were good enough for TNT to extend the series and order up an additional 15 episodes that will air in early 2014.
Hagman starred in the original Dallas that ran from 1978 to 1991. He was joined in the new continuation series by Patrick Duffy and Linda Gray, both of whom will appear in Season 3.
Warner Home Video is expected to announced a Dallas: Season 2 home video release date within the next few months.