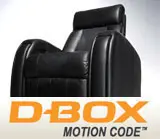 D-BOX Technologies has announced a licensing agreement has been reached with Universal Studios Home Entertainment that will allow D-BOX Motion Code to be included on select Universal Blu-ray Disc films.
The first Universal Blu-ray Disc release to feature D-BOX Motion Code will be Death Race starring Jason Statham. The racing thriller, perfectly suited for D-BOX, will be available beginning December 23.
By bringing Universal on board, D-BOX has now expanded their reach of studio agreements to five which also includes Fox, Disney, Lionsgate and Sony.
D-BOX has also begun to penetrate the gaming world with today's release of Need for Speed: Undercover for the PC that includes D-BOX Motion Code. This new agreement with Electronic Arts should open the door for many more D-BOX enabled games in the future.
Click here to pre-order Death Race on Blu-ray with D-BOX Motion Code for $29.99 from Amazon.com.