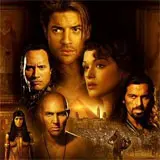 Any doubt surrounding Motion Code being available for Universal's newly launched Blu-ray Disc line has been put to rest.
On July 31, downloadable D-BOX Motion Code became available for The Mummy Returns and The Scorpion King. On August 1, Motion Code appeared for the original The Mummy.
With three out of the first four Universal Blu-ray titles having available Motion Code with two weeks of release, we feel confident big fall releases like The Incredible Hulk, Wanted and Hellboy II: The Golden Army will also be given the D-BOX treatment.
Other Blu-ray titles updated with D-BOX include The Exorcism of Emily Rose, The Perfect Storm, 10,000 BC and Batman Begins.