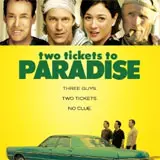 D.B. Sweeney's Two Tickets to Paradise comedy enjoyed a successful run on the film festival circuit before receiving a limited release on DVD in 2008 by First Look Studios. That limited release never went wide, until now.
Paramount Home Entertainment has announced plans to award Two Tickets to Paradise the wide release it's been waiting years for. The release date is September 14 and the bonus features are all new: outtakes, deleted scenes and a feature-length commentary by Sweeney.
Synopsis: Unfortunately for Mark (McGinley), McGriff (Sweeney) and Jason (Paul Hipp, Waking The Dead), their best years seem to have been back in high school when the world saw them as a star athlete, a rock god and a genius. Twenty years later they can't catch a break. Until they score two tickets for the biggest game of the year: The College Football Championship Bowl. Seeing it as their chance to break out and hit re-set, the guys take a road trip to Florida. But will their friendship survive hungry alligators, barroom losers and the most challenging obstacle of all: each other?
Two Tickets to Paradise on DVD carries an SRP of $14.99. Watch the trailer below (cut before it was renamed from Dirt Nap).