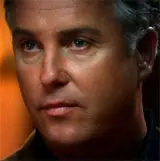 Dexter won't be alone as the only TV on Blu-ray title from CBS and Paramount for much longer.
Joining Dexter on Blu-ray this May will be the first season of the original CSI: Crime Scene Investigation. The show that spawned 2 spin-offs and continues to kick today will arrive on May 12.
CSI: Season One on Blu-ray will be presented in 1.78:1 1080p video and 7.1 Dolby TrueHD audio — a step up from the 5.1 channels Dexter is offering.
There will likely be, at minimum, all the bonus features from the previously released DVD set. Paramount and CBS have yet to share the list of extras at this time.
We'll have more on this big TV on Blu-ray release in the coming days including Amazon pre-order info and cover art.