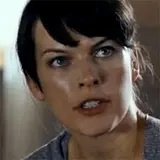 The first trailer for Universal's The Fourth Kind is here and appropriately should creep you out.
In the film, Milla stars as a psychologist whose husband has recently passed away leaving her to raise two children alone. Upon interviewing patients with similar symptoms of distress she is suffering, a nightmare begins to unravel.
The Fourth Kind is based on actual events that transpired in an Alaskan town. It integrates real never-before-seen archival footage from those whom experienced the strange events which you can see in the trailer that debuted at Hulu below.