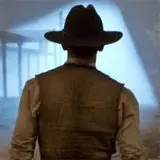 Jon Favreau and Universal's science fiction and western genre mash-up Cowboys & Aliens starring Daniel Craig, Harrison Ford, Olivia Wilde and Sam Rockwell is now available for pre-order at Amazon.com in a Blu-ray, DVD and digital copy combo pack. The set has already cracked Amazon's top 10 bestselling Blu-ray titles as a result.
Cowboys & Aliens was released theatrically on July 29, 2011 with big expectations considering the talent involved and production budget estimated at $163 million. It never got off the ground at the box office and stalled with only $96.2 million in domestic ticket sales and $146.2 million worldwide.
Amazon has set the pre-order price for Cowboys & Aliens on Blu-ray at $24.49 or 30% off the $34.98 list price. Additional details, such as the release date (November or December is a strong guess), won't be available until the studio makes an official announcement.
Click here to pre-order and secure your copy of Cowboys & Aliens on Blu-ray at Amazon.com.