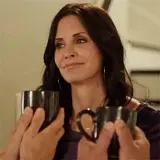 TBS is rolling the dice on ABC's Cougar Town starring Courteney Cox by taking over the series for at least the next season, the show's fourth.
This past season on ABC, Cougar Town hit a slippery ratings slope when the network moved it away from its effective Modern Family lead-in to Tuesday nights. Even though 61 episodes were already in the can and only two seasons were left to reach syndication, ABC was thought to be on the cusp of axing the show or cutting its episodes back to 13.
Don't expect TBS to cut corners on Cougar Town just to ride it out to 100 episodes. They picked up one season guaranteed for 15 episodes, more than ABC would have been able to offer, and have an option open on a second.
Co-creator Bill Lawrence dropped some additional information about the Cougar Town move to TBS during a chat with TVLine earlier today. He said TBS came "hard" for the show and is intent on making it a "flagship" offering to their viewers. It is in TBS' best interest for the show to succeed as they would benefit from it reaching syndication.
Lawrence also said that everything is porting over from ABC to TBS, from the writers to the licensing fee to the cast. He promises the production won't be "rinky-dink" and says TBS will commence a "big-time marketing push" when the next season is gearing up to premiere. Advertising is what most would argue the show lacked while at ABC.
It's too early to know what day and time TBS will slot Cougar Town. If they're betting on it being a flagship show, don't expect Cougar Town to return to its Tuesday time slot.
Source: TVLine