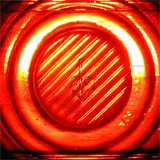 I have often wondered why my rack of home theater electronics has to look like a string of Christmas lights when everything is supposedly turned "off." The standby effect helps a little in finding a switch in near dark conditions, but otherwise the small army of annoying red lights is doing nothing other than sucking unnecessary electricity 24 hours a day, seven days a week.
Some pieces of home theater hardware, such as the Playstation 3 console, were designed with a hidden master on/off switch that kills the little red standby light. In saving a few watts you would have to reach around to the back of the console each and every time the PS3 needed turned on and off. There goes the convenience of having shelled out $20 for Sony's PS3 remote.
A product recently came across my desk that aims to crack down and mostly eradicate electricity being used when a piece of hardware should be resting dormant. Dubbed the "Smart Strip," this pimped out power strip can differentiate types of hardware into tiers of switches. You plug in all your gear and let the Smart Strip do the rest.
The switch tiers are broken out into master, constant and switched. The lone master outlet in a home theater setup would be either your television or a/v receiver as they would be used in almost every application (a television would not be needed for playing an iPod or CD through a receiver). In a home office environment the master would be your computer.
Constant outlets are for gear that still needs to remain on even when the television or whatever is plugged into the master is off. A prime example would be a DVR which you would not want shutting off at 2am right in the middle of recording a show while you are fast asleep unless you had it on a timer programmed specifically to shut off in blocks of time you never record in. Other constants might be a router or network bridge.
The switched outlets are where you can save a few bucks every month depending on how many pieces of hardware are in your home theater. I was able to plug in a CD player, an a/v receiver, and Playstation 3, Xbox 360 and Wii consoles into the Smart Strip which, aside from the Xbox 360 which is truly off when switched off, now automatically lose their standby light every time the TV is shut down.
Home theater settings using a projector would have to rely on the a/v receiver as a master since odds are the projector outlet is nowhere near the rest of the gear. In my case I set up the Smart Strip in my family room as it was a more natural fit than my theater.
How much money the Smart Strip will save in the long run is debatable unless you can measure usage using a tool I do not own, but anywhere from $1 to $2 per month seems appropriate based on some research. I needed a new power strip with surge protection that had some extra space for wide "brick" plugs regardless and this fits those needs. Though not smart enough to work around a DVR as switched hardware, the Smart Strip's energy friendly uses are as endless as the techno gear plugged in throughout a modern house.
– Dan Bradley
Learn more about Smart Strip at CableOrganizer.com.