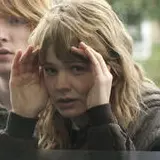 Fox Home Entertainment has announced plans to bring a pair of Oscar hopefuls to Blu-ray Disc on February 1.
First up is Conviction, the story of Betty Ann Waters and her 18-year battle to clear the name of her wrongly accused brother starring Hilary Swank, Sam Rockwell, Minnie Driver, Juliette Lewis and Peter Gallagher. It comes to Blu-ray in 1080p video and 5.1 DTS-HD Master Audio with no supplemental features.
Joining Conviction is Never Let Me Go with Carey Mulligan, Keira Knightley, and the new Spider-Man Andrew Garfield acting out the story of three friends who discover a horrific secret about their boarding school. It will be presented in 1080p video and 5.1 DTS-HD Master Audio, and include a lone bonus feature: "The Secrets of Never Let Me Go," an exclusive 30-minute behind-the-scenes look.
Look for Conviction and Never Let Me Go Blu-ray pre-order links in the near future.