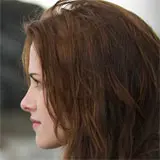 Summit Entertainment is gearing up to blow the roof off Comic-Con from the shrieks of "Twi-hard" fans with their The Twilight Saga: New Moon panel on Thursday in Hall H. To get the festivities underway, they've launched a dedicated New Moon website that you can cruise around right here.
With word stars Kristen Stewart, Robert Pattinson and Taylor Lautner will all be on hand for the Twilight panel, fans began lining up more than a day early for a chance to glimpse the teen idols in the flesh.
The gang at HitFix stumbled into this line and tried to get a feel for what's going through their minds. "I had friends who came last year and they basically said it was the best time they ever had and we're just in love with Twilight," one fan said. "My friends got here at 8 AM in the morning last year and were kind of in the back, but we didn't expect people to be here at midnight the day before." Head over to HitFix to read about the rest of their findings and check out a new Twilight New Moon promotional banner they snapped below.
Circling back to the New Moon website, did you happen to catch a new still in there? If not, I've included it below which when clicked will enlarge.
Check back tomorrow when the two new Twilight New Moon clips are expected to show up online after the presentation one way or the other.