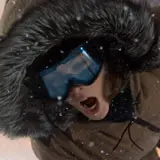 Warner Bros. Pictures has followed up their Whiteout tease at last year's Comic-Con by unveiling the first full blown trailer to kick off this year's.
Whiteout, based on a graphic novel, stars Kate Beckinsale as Carrie; a lone U.S. Marshal working Antarctica who faces investigating the continent's first murder. With winter and harsh conditions only 3 days away, Carrie must solve the crime before a mystery she stumbles into traps her with the killer. Co-starring in Whiteout are Gabriel Macht, Columbus Short, Alex O'Loughlin, Shawn Doyle, and Tom Skerritt.
Check out the (small) debut trailer below and be on the lookout for a larger version in the next couple days. Whiteout hits theaters on September 11.