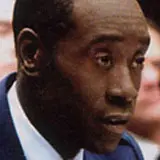 Iron Man fans poured into the Iron Man 2 panel at San Diego Comic-Con until the fire marshal shut the doors. They knew that as with the first Iron Man film, the first footage for Iron Man 2 was cobbled together to exclusively unveil at Comic-Con.
The first official Iron Man 2 teaser trailer probably will not surface until November or December at the earliest. All the more reason why the Comic-Con footage was a special treat those not in attendance, including yours truly, could not experience.
Photography no-no rules aside, Teaser-Trailer.com got their mitts on some blurry stills from key moments in the trailer. Check out Mickey Rourke as Whiplash with his whips ignited, along with the big War Machine reveal. Sorry, no Scarlett Johansson fighting as Black Widow or Justin Hammer dealing. At least not yet.
Click here to view some of the official Iron Man 2 stills released prior to Comic-Con.