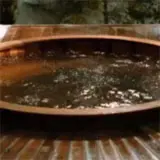 Cinema has shown us over the years that there are numerous ways to design and execute a time machine. If I were given a turn to come up with my own, this following concept would have been the last considered.
The red band (NSFW) trailer for Hot Tub Time Machine (no joke, that's the name) debuted at Comic-Con and brings the laughs. I'm always a sucker for a good Terminator reference where time travel is involved and this, well, check it out for yourself below.
And remember, this is entirely not safe for work.
Hot Tub Time Machine stars John Cusack, Rob Corddry, Craig Robinson, and Clark Duke as four "buds" who step into a hot tub and emerge in 1986. Panic and cursing ensue.
Look for Hot Tub Time Machine to shoot for Hangover success in theaters this February.