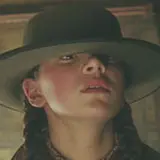 As Oscar hype builds up around David Fincher's The Social Network ahead of its Friday debut, Paramount has dropped the trailer for Joel and Ethan Coen's True Grit and stolen some of the Facebook movie's thunder. After watching the trailer below you'll see why. There's an unmistaken Unforgiven vibe running through the Coens' western and recall that Eastwood film went on to win a Best Picture, Best Director and two other Oscars back in 1992.
True Grit stars young newcomer Hailee Steinfeld as the daughter of a man who has been murdered by a cowardly outlaw (Josh Brolin). She joins forces with a reluctant drunken one-eyed U.S. Marshall (Jeff Bridges) to track down the coward into Indian territory, but must find him and exact revenge before a Texas Ranger (Matt Damon) does to put him on trial for an unrelated murder.
True Grit hits theaters on December 25.
Watch the True Grit trailer in high definition (HD) at Apple.