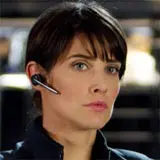 Maria Hill is that "other" S.H.I.E.L.D. agent in Marvel's The Avengers movie, the new kid on the block who, from all indications thus far, will never wander far from the Helicarrier's bridge.
Up until last week's newly released The Avengers second trailer, we had not seen an official image or footage that included Hill. The trailer offered a quick glimpse at Agent Coulson's co-worker, and now a couple new stills have been released to give us a better look at Cobie Smulders in the role.
Whether by accident or indicative of Agent Hill, Smulders is putting on one serious face manning the Helicarrier bridge. She clearly means business, and likely won't put up with Tony Stark's attitude and cockiness when push comes to shove.
The Avengers is directed by Joss Whedon and stars Chris Hemsworth, Chris Evans, Robert Downey Jr., Mark Ruffalo, Samuel L. Jackson, Jeremy Renner, Scarlett Johansson, Clark Gregg, Tom Hiddleston, and of course, Cobie Smulders. They'll all assemble in theaters beginning May 4.
Click the second Maria Hill image below to view a high resolution version and check out the Helicarrier schematics on the view screen.