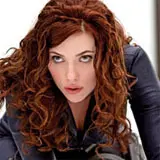 Following up on yesterday's rather blurry first look images of Scarlett Johansson as The Black Widow from Iron Man 2, Entertainment Weekly has published nice clean images for us to gawk at. Oh yeah, there's a shot of Robert Downey Jr. as Iron Man and Mickey Rourke as Whiplash, too.
Back to Scarlett. The article describes her role as, "Stark's mysterious new assistant, Natasha, who has an alter ego of her own, Black Widow. That introduction inevitably sparks romantic tension between Stark and former assistant Pepper Potts (Gwyneth Paltrow), who's been promoted to CEO of Stark Industries." Clearly there is no attempt to hide her identity in the Black Widow costume so it will be interesting to see how that dynamic plays out.
Scarlett with the red hair draws immediate comparisons to another Scarlett starring in GI Joe: The Rise of Cobra. Take a close look at Black Widow below and tell me she doesn't resemble Joe's Scarlett. I'll make it easy and toss in another pic for comparison's sake.
Entertainment Weekly also offers some insight into how Whiplash and Justin Hammer (Sam Rockwell) fit into the story. Read all about it over at EW.com, and look for the Iron Man 2 themed issue to start arriving in mailboxes tomorrow.