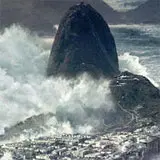 A trio of new promotional posters for Roland Emmerich's 2012 have hit the web courtesy of Yahoo! Movies.
The posters feature regular catastrophe casualties Washington, D.C. and Los Angeles being drowned and split into two, respectively. The third poster erases Rio de Janeiro from the face of the Earth.
2012 stars John Cusack, Chiwetel Ejiofor, Amanda Peet, Oliver Platt, Thandie Newton, Danny Glover and Woody Harrelson. It will strive to be the crowning achievement in Emmerich's quest to destroy the planet better than anyone else when it arrives in theaters on November 13.
Never before has a date in history been so significant to so many cultures, so many religions, scientists, and governments. A global cataclysm brings an end to the world, and tells of the heroic struggle of the survivors.