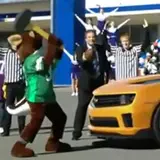 Chevy has been a strong promotional partner for Michael Bay's Transformers films which will translate into a little extra love for the robots in disguise during the Super Bowl this upcoming weekend.
In addition to a Paramount Transformers: Dark of the Moon TV spot that should feature all-new footage, Chevy will be airing at least one Transformers-themed commercial during the big game which has already begun running at ESPN.com. The spot is set at a car lot where a salesman unwisely lets a mascot bang the hood of Bumblebee with a sledgehammer. Hilarity ensues.
Watch the trailer below which technically is the first look at how Bumblebee will be represented in Transformers: Dark of the Moon.