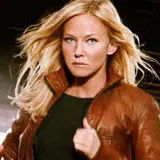 NBC finished what they started yesterday in determining the fate of several shows considered to be on the bubble for renewal.
'Chase' follows 'The Event' Monday's on NBC and now follows its fellow freshman show in receiving a full season pickup in the form of 9 additional episodes. This news comes after last night's 'Chase' episode ticked up slightly in the ratings from the previous one for the first time.
NBC has also greenlit underdog favorite 'Chuck' for a full season order by ordering an additional 11 episodes. That means the current season of 'Chuck' is a full package of 24 episodes, quite the feat for a show that keeps on ticking despite numerous trips to the chopping block.
The final and weakest new NBC show, 'Undercovers,' did not receive a full season order but NBC was kind enough to order 4 additional scripts. It will need to either maintain its present ratings or see some improvement for a second season to materialize.