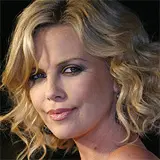 Charlize Theron has entered final negotiations to board Ridley Scott's next film Prometheus as Vickers, one of two female leads in the sci-fi thriller.
Prometheus originally began as a two-film prequel to Ridley Scott's Alien based on a script written by Jon Spaihts (The Darkest Hour). When Damon Lindelof was brought on board to touch up the script, the project evolved into a standalone tentpole for Twentieth Century Fox with only stands of the Alien "DNA" remaining.
Theron has been attached to the Vickers role for at least a month with fellow high-profile actress Angelina Jolie. Theron was always considered the frontrunner so it comes as no surprise that she's on the cusp of signing the dotted line.
Noomi Rapace of The Girl With The Dragon Tattoo fame and Michael Fassbender, Erik Lehnsherr / Magneto in the new X-Men: First Class film, have already joined the cast. There are presumably still two male leads left to fill.
Prometheus was originally announced for a March 9, 2012 release date. Shortly after Disney moved their big sci-fi adventure John Carter of Mars to March 9, Fox promptly moved Prometheus into John Carter's vacated June 8, 2012 slot.
Shooting on Prometheus is expected to get underway in late spring or early summer.
Source: THR