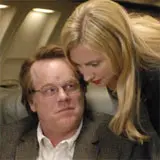 Charlie Kaufman's Synecdoche, New York will receive a simultaneous bow on Blu-ray Disc and DVD on March 10 after its recent theatrical run.
Synecdoche, New York stars Philip Seymour Hoffman as a theater director looking to pull off an ensemble work of "brutal honesty."
Sony will present Synecdoche, New York in widescreen 2.35:1 1080p video and 5.1 Dolby TrueHD audio.
Bonus features will include the following.
The Story of Caden Cotard
Infectious Diseases in Cattle: Bloggers' Round Table
Charlie Kaufman Animations
NFTS/Script Factory Masterclass with Charlie Kaufman
Look for Synecdoche, New York high-res cover art and disc details in the near future.