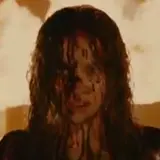 The first teaser trailer for Sony's remake of Carrie starring Chloe Grace Moretz has hit the web at a time when bullying and the impact it has on youths is garnering national media attention.
The Carrie teaser trailer is a nighttime helicopter shot that begins above a building on fire and then moves down the street to reveal everything in a one-to-two block stretch has also been set ablaze. The camera then stops on Carrie, covered in blood with an expression of vengeance and chilling terror on her face. Casting Chloe Grace Moretz for this iconic role was a stroke of genius.
Sony is using the tagline "You Will Know Her Name" to promote the reboot from director Kimberly Peirce and the adapted screenplay of Stephen King's novel by Roberto Aguirre-Sacasa. Considering the amount of carnage Carrie has created with her telekinetic powers from this teaser and the voiceover, "There's something no one seems to understand. She wasn't some monster. She was just a girl," the whole world will soon know the bullied girl's name.
Carrie also stars Julianne Moore, Alex Russell, Michelle Nolden, Portia Doubleday, Gabriella Wilde and Judy Greer. It is set for release on March 15. 2013.