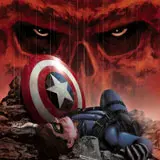 Director Joe Johnston was the center of attention at a recent press junket in Los Angeles for The Wolfman. Not for his work on that film, though. Members of the media were pressing the director for any scoop on Marvel's Captain America which Johnston is ramping up to begin shooting in late June despite not having a cast in place.
While other directors might have clammed up and taken a "wait and you'll find out" approach, Johnston was extremely forthcoming about Captain America considering where it is at in development. At this point in Iron Man 2's life cycle we knew next to nothing about the film.
Multiple media outlets were able to confirm with Johnston that the main villain, though not necessarily the only one, will be none other than the Red Skull. This is frankly the obvious and only choice and will spark much debate as to who should play him.
If you think Captain America and Red Skull are the only prominent characters in the film, think again. Bucky has been previously confirmed, and in CHUD's time with Johnston at the junket they were able to learn that not only will six members of The Invaders appear in the film, but they will be featured throughout the entire second-half.
The Invaders are a group of Europeans with special abilities who fought during World War II. Captain America and Bucky are considered a part of their group.
Taking this scoop into consideration, Captain America's action could play out more like the X-Men than Iron Man where a group of superheroes band together to tackle a common foe. It has the potential to be quite spectacular.
As for Captain America, the L.A. Times was able to chat one-on-one with Johnston for an extended period of time and learned much about the good Captain. We already knew Johnston is hoping to cast Captain America in the next few weeks. Now we know he hopes to have the role locked by March 1 when he departs for London.
Johnston is currently looking at 5 or 6 guys for the role with the youngest age 23 and the oldest 32. That is a little bit older than the typical 18-22 year-old soldier by design.
Whoever is hired will don the old-fashioned tight Captain America suit but not for reasons previously seen in the comics. This suit will be introduced as a disguise of sorts to blend into a USO show, and will later in the film be upgraded to something a bit more practical.
"I wanted to come back to the idea of Steve Rogers as a reluctant performer with United Services Organizations, which famously brought Bob Hope and other entertainers to morale-boosting events for troops overseas.

So he's up on stage doing songs and dances with chorus girls and he can't wait to get out and really fight. When he does go AWOL, he covers up the suit but then, after a few things happen, he realizes that this uniform allows him to lead. By then, he's become a star in the public mind and a symbol. The guys get behind him because he embodies something special…

He realizes the value of the uniform symbols but he modifies his suit and adds some armor, it will be closer to the Cpa costume in some of the comics in more recent years… this approach, it's the only way we could justify ever seeing him on a screen in tights, with the funny boots and everything. The government essentially puts him up there as a living comic-book character and he rips it off and then reclaims some of its imagery after he recognizes the value of it. We think it's the best way to keep the costume and explain it at the same time."
What this upgraded suit will look like should become a symbol of great debate amongst the fan community. How much of the imagery will remain when the suit is rebuilt with armor? The stars, obviously, but what about the red?
That's a lot of Captain America information to digest while we anxiously await the first casting news to break.